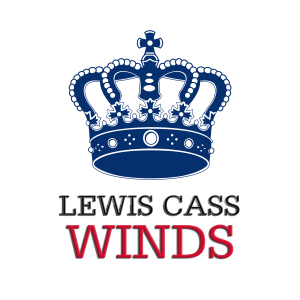 Welcome to the Lewis Cass Winds!
Lewis Cass High School is a proud host of a revolutionary new type of ensemble – indoor winds. Some call it mini-marching band, some call it indoor percussion with wind instruments, but regardless – it is a lot of fun.
A Winds group presents marching ensembles of any instrumentation in the same performance environment as indoor color guard and percussion ensembles. As one of the world's largest and most influential marching arts organizations, WGI (Winter Guard International) brought the same exciting competitive and educational opportunities to students in the winds section in support of the total band program within the last decade.
By creating Winds, the legacy of excellence has an outlet for a high quality performance experience.  Students are judged by the most skilled adjudicators working in the marching arts today while sharing their love of music and motion under the guiding principle of an educationally sound scoring system.
Lewis Cass competes in the Scholastic A class, both in the WGI and IPA (Indiana Percussion Association) circuits. Scholastic ensembles are programs that compete on behalf of their school. This will allow ensembles to compete and be compared with other groups at a similar skill level. The Winds competitive season at Lewis Cass begins in February and finishes in March at the Winds State Finals, but rehearsals will begin in early December 2019.
---
2022 Season
Registration
1. Students need to complete the 2022 Lewis Cass Winds Commitment Form. This form guarantees the student a spot in the show along with the commitment fee.
2. Student fee (each $100.00, totaling $300.00) schedule is below.
Fee Schedule
Payment #1 ($100.00) – due December 10th, 2021
Payment #2 ($100.00) – due January 1st, 2021
Payment #3 ($100.00) – due February 1st, 2021
If you would like to pay in full by the end of December, you will receive a $25.00 discount.
If you are unable to pay by the commitment fee by December 10th, please send me an email at thomase@lewiscass.net
4. Make sure your student's health information is up to date by completing the LC Bands Health Form.
5. Please ensure your student's ability to travel with us by completing the Waiver/Consent to Travel Form.
---
All Forms
In addition to the participation fee, students will also be responsible for materials that they need, mostly for show appearance. They will be able to keep items at the conclusion of the season. Thank you for your help in making this group look great! 
The "drill" or marching routine is written for each individual student and fits together like the pieces of a puzzle.  Any student who drops out after the drill has been written will cause the ENTIRE SHOW to be rewritten at an enormous cost.  Students must make a commitment to finish the entire marching season.  
*It is the policy of the Lewis Cass band program that no student shall be denied participation due to financial hardship. Arrangements can be made with the directors for those students who are in need of such consideration.*